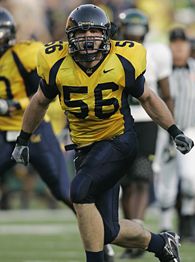 How often do you hear the tv announcers say "WOOOOOO?" Well get used to it because the Pain Train is departing. Toot! toot! Detroit signed 7th Round draft pic & Cal Alum Zack Follet to add some passion to their special teams and he delivered in his first week on the job with this vicious hit on Rams kick returner Danny Amendola. Check out the starting quarterback get hyped up about the hit.
It's because of hits like this that you still see a lot of #56 jerseys at Cal games. We Cal fans love this guys intensity and heart. I got to watch this guy blow people up with the Cal blue & gold on and I'm looking forward to seeing him do his thing in the silver & blue. His Cal highlights are a thing of beauty.
Zack Follet Highlights from sara lee on Vimeo.
Best of luck in the NFL. Make those other teams that passed you up pay.